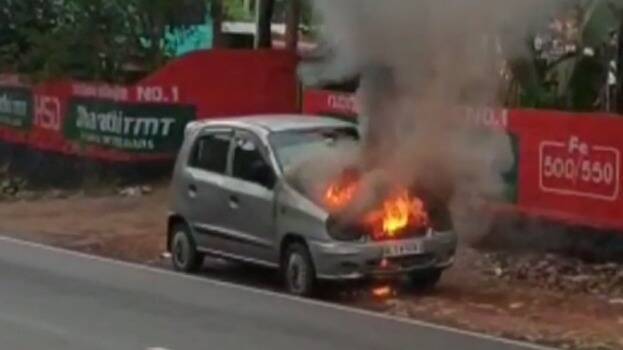 THIRUVANANTHAPURAM: A running car caught fire at Mylakuzhy in Venjaramoodu. The accident happened on Venjaramoodu-Attingal road. The vehicle that caught fire was proceeding to Attingal from Venjaramoodu. A major accident was averted after the driver stopped the vehicle and got out.
The incident happened Friday morning at 9 am. The car was driven by Sanoj of Attingal. Only Sanoj was in the vehicle at the time of the incident. Sanoj stopped the vehicle to one side after the locals told him about smoke emanating from the vehicle. He escaped after unlocking the central lock system.
The front portion of the car has been completely gutted in the fire. The fire was doused by the fire force unit from Venjaramoodu. The reason for the fire is not known.

A couple was killed after their car went up in flames in Kannur yesterday. The woman killed was in labour pain.