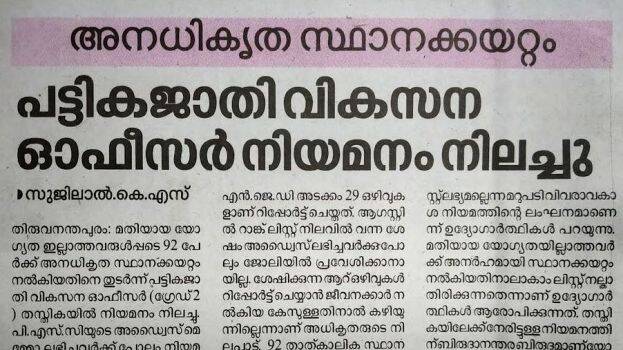 THIRUVANANTHAPURAM: PSC has sent an advice memo to six candidates for the post of Scheduled Caste Development Officer (Grade 2) whose appointment was halted. This is based on the new vacancies reported by the department.
'Kerala Kaumudi' had reported that the vacancies were hoarded without reporting due to the illegal promotion given to 92 people who did not have sufficient qualifications. The appointment, which was stalled for months, has resumed with this. Even those candidates, who got advice after the rank list came into effect in August, were unable to join for work. The reason is that the vacancies disappeared due to illegal recruitment. They were appointed as the matter became controversial.
It is alleged that many of those who got promoted have only 10th-class qualifications even though the qualification for direct recruitment is post-graduation. Although the candidates demanded the list of 92 promoted persons, the authorities have kept it a secret.