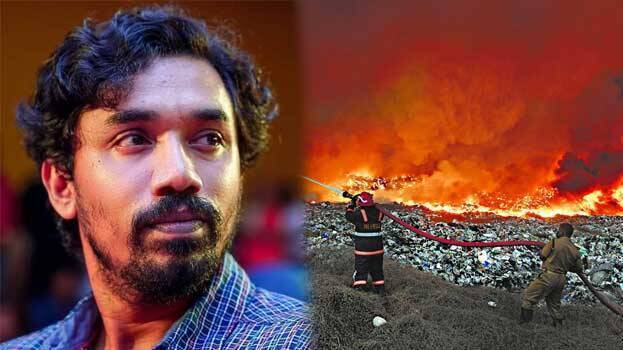 The Brahmapuram fire turns more than one week old choking the natives of Kochi. The government went inept in dousing the fire and the result saw people reaching the medical college in Kalammassery in utter desperation over breathing loss. Any such incident in any part of India would trigger the celebrity faction in Kerala. Be it the JNU skirmish, Hathras, Lakshadweep, or Kathua, the legions of actors settled in front of keyboards would have penned eloquent yet acerbic writings on the lackadaisical and inhumane attitude of the government in other states.
However, the usual troops of actors cum activists are nowhere to be seen in the Kerala Brahmapuram incident. All are sharing/promoting their movies and songs but are meticulously keeping a blind eye towards the happening in the state.
Breaking the odds and showing some cojones comes 'Aadu' director Midhun Manuel Thomas. He has penned a note that is apt enough to be considered a criticism of the government.
According to his Facebook post, Midhun said " Good heavens, this is the industrial capital of Kerala!! For days, the place is smoldered in toxic fumes and smoke. Now, the smoke is even seeping into the house choking the people. The incident should be considered one of the worst ecological tragedies that happened in Kerala. The dark hands behind the incident should be arrested, no matter if he/she falls from the opposition or the ruling party. We, people, have not taken any quotation to breathe these toxic fumes"
After the post, actors Joy Mathew, Unni Mukundan, and Harish Peradi joined the bandwagon of protest.