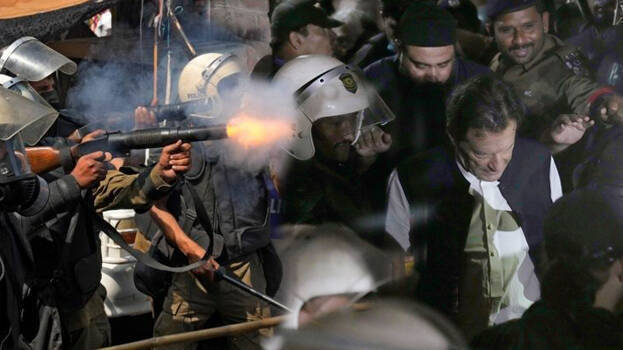 ISLAMABAD: Additional District and Sessions Judge (ADSJ) Zafar Iqbal on Saturday permitted Pakistan Tehreek-e-Insaf (PTI) chairman Imran Khan to leave after his attendance was marked outside the G-11 Judicial Complex amid unrest between police and party supporters, a report said.
According to reports, Judge Zafar Iqbal stated that the hearing and appearance cannot take place in the current situation due to the ongoing hostilities between Islamabad Police and PTI workers outside the Judicial Complex. He advised all those present to disperse peacefully without resorting to any form of violence, including shelling or pelting stones after Imran Khan's attendance.
The judge further said that the hearing cannot be conducted today and the next date for the hearing can be decided after obtaining Imran Khan's signatures. PTI chairman departed for Lahore without stepping out of his bullet-proof vehicle at the gate of the Judicial Complex, as per the news report.
Intense clashes broke out between PTI supporters and police as former Pakistan Prime Minister Imran Khan's convoy reached the judicial complex ahead of the party chairman's appearance before a district and sessions court in the Toshakhana case.
Imran Khan's vehicle was stopped merely 100 meters from the gate of the judicial complex as the police blamed party workers for blocking the route. Meanwhile, the PTI claimed the law enforcers were restricting the party chairman's movement.
Despite the end of court hours, the PTI chairman could not appear before the judge. Earlier, Imran Khan filed an application in court, stating that he was present at the gate outside the complex and that his presence should be recorded at the gate.
Imran Khan was to appear in court for the first time today after repeated summons for hearings. A day earlier, the Islamabad High Court suspended the non-bailable arrest warrants issued against the former Pakistan PM till today, giving him the opportunity to voluntarily appear before the sessions court. His convoy reached the Islamabad toll plaza with reports of the route being blocked.