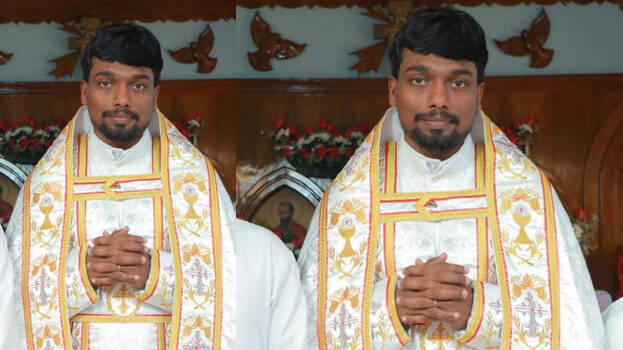 NAGERCOIL: A special investigation team of the police in Nagercoil arrested a priest of a church in Kanyakumari after an obscene video of him with a woman, went viral. The arrested is Benedict Anto (29), a priest of Little Flower Ferona Church under Syro Malankara Catholic Church in Plangala near Azhakiya Mandapam.
He was arrested yesterday morning by the special team led by sub inspector Saravana Kumar investigating under the leadership of Nagarcoil DySP Naveen Kumar as per the directive of district police chief Hari Kiran Prasad. He was arrested during a vehicle inspection in Villikuri based on secret information received by the investigating team. The priest was on the run after a case was registered by the cyber police based on the complaint of an 18-year-old girl of Pechipara.
The accused, who was hiding in Wayanad was proceeding to Nagercoil on the instructions of some priests. Police said there was another priest with him. After the accused was interrogated by the cops of cyber crime department of SP Office in Nagercoil, he was subjected for a medical examination at Asaripallam Medical College Hospital.
More visuals
The cyber crime police officials said lewd pictures of 80 women were found in his laptop when examined. Police said that if there are pictures of girls below 18, POCSO Act will also be charged. The police informed that the victims subjected to sexual harassment should file a complaint and their information will be kept confidential.