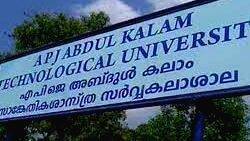 THIRUVANANTHAPURAM: The government has allowed six syndicate members, including former MP PK Biju, to continue at the Technological University.
VC Dr Ciza Thomas sought clarification from the government regarding the membership of the syndicate as the six persons were nominated through the ordinance but the bill passed by the legislature instead of the ordinance was not signed by the governor. The Higher Education Secretary informed that even if the ordinance is invalidated, the nominated members of the syndicate can continue for the term of four years. CPM district committee member I Saju, Kerala University teacher Dr BS Jamuna, Engineering College teachers Vinod Kumar Jacob, G Sanjeev and S Vinod Mohan are the other members of the syndicate.
Just before the last assembly elections, they were nominated to the syndicate by amending the law through an ordinance issued on 20 February 2021. This ordinance was re-promulgated on 2nd July and 24th August. In October 2021, the legislature passed a bill to replace the ordinance. With the governor setting aside the bill without signing it, the nomination of 6 syndicate members became invalid with effect from 14 November 2021. The Vice-Chancellor, Prof Ciza Thomas, wrote two letters to the Higher Education Secretary seeking clarification on the matter but there was no reply. But there was controversy when all the six members attended the academic committee meeting without permission. With this, the government clarified the issue. The governor has not taken a decision on the complaint of the Save University Campaign Committee that the syndicate membership of six people should be canceled due to the annulment of the ordinance.