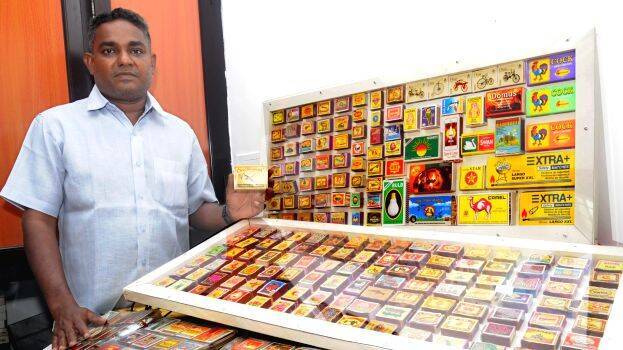 KOCHI: Beedi undo sakhave theepetti edukkan ?... If this is asked to Santhosh from Kakkanad Chembumuk, he will gladly invite you home. You will not get a beedi. But he will be happy to show 9600 types of matchboxes and amaze you.
This 48-year-old taxi driver has made, Phillumeny or collecting matchboxes his hobby. It started in 2014. A light bulb switched on in his brain when he found a matchbox with a picture of a bull on it, which was new to Kerala. He then got into the habit of buying matchboxes on his travels. 300 types of matchboxes reached Santhosh's hands within a year.
A Facebook friendship with Praveen Kumar Singh, a native of Hisar, Haryana, who is a member of the Indian Phillumeny Club, was a turning point. Praveen encouraged by couriering 50 types of matchboxes. Santosh cemented the friendship by sending matchboxes from Kerala in return. He found other Phillumeny people through Facebook. He is married to Ronnie Mary. Children: Eric and Mikha Maria.

Depot of matchboxes
Santosh started going to the depot in Kalamaseri once a week, after buying matchboxes for ten rupees. The trip is to collect matchboxes from migrant lorry drivers who come to Kochi with goods. Other state matchboxes were acquired by giving matchboxes in exchange, to smokers. Later, the drivers helped Santosh by bringing various matchboxes.

Matchbox from France as well
Santosh has everything from a 25-paisa matchbox with a black-and-white picture to an elongated French matchbox. They are categorized as Animals, Vehicles, Fruits, and Sportsmen. Messi, Ronaldo, Google, and Facebook matchboxes are also there in the collection.

It makes me happy to see old people laughing at old matchboxes. With lighters replacing matches, new ones are hard to come by.
- Santosh Gilbert