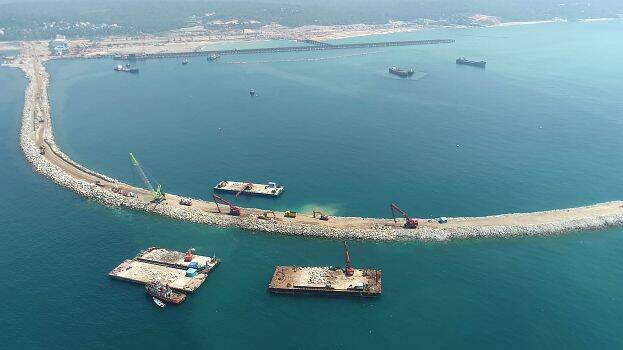 THIRUVANANTHAPURAM: The government, through a loan, has once again provided the contract amount due to the Adani Group as part of the construction of the breakwater at Vizhinjam port. In this way, Rs 150 crore loan has been taken from KFC. The move by the Accountant General (AG) comes amid the warning of the Accountant General (AG) that the loan will be included in the government's public debt. According to the port agreement, the state government has to bear the cost of placing the breakwater in the sea. In this, the first installment of Rs. 409 crores including taxes has to be transferred to the Adani Group. The Accountant General had sent a letter to the government requesting it. The finance department had informed that it would not accept this, but the AG did not reply. In this situation, the port department borrowed another Rs 150 crore and gave it to the Adani group. The port department has further announced that it will immediately pay Rs 159 crore. If the money is not released, the construction of the port will be in crisis and Adani has written twice to the government saying that interest on the arrears must be paid. It is in this situation that the government borrowed the money despite the AG's warning.
Govt decides to ignore AG
The government has decided to ignore AG and to try its best for the HUDCO loan. In case of delay, the government will take a temporary loan of Rs. 500 crore from KFC under guarantee at various stages for emergency purposes. The loan repayment starts only after 15 years.
Needed amount
1154 crores for railways
100 crores should be paid in advance in the contribution amount
1171 crores for completion of breakwater in the coastal region
110 crores for construction of breakwater for fishing and harbor protection
203 crores to acquire land for rail and road connectivity
143 crores to acquire 4 hectares of land for the port
817 crore as viability gap fund