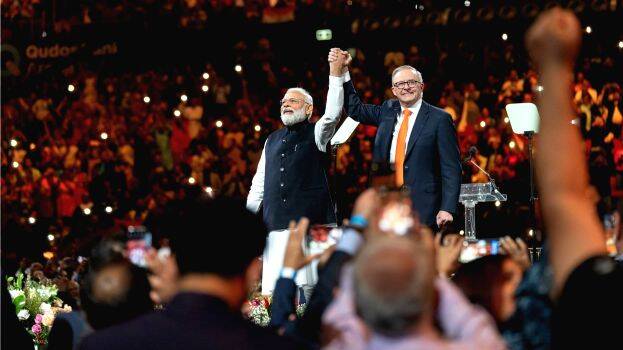 SYDNEY: Prime Minister Modi is the boss... More than twenty thousand Indians cheered after hearing the words of Australian Prime Minister Anthony Albanese. The Qudos Bank Arena indoor stadium at Sydney Olympic Park was abuzz with Modi magic yesterday, the biggest reception a foreign leader can get in Australia.
Albanese welcomed Modi by saying, "Dear friend, you have brought the spirit of the world's greatest democracy to Australia." He then compared Modi to famous American singer Bruce Springsteen. 'Wherever Modi goes, he gets a rock star welcome. Last time at this venue I saw Bruce Springsteen perform. Even he didn't get such a big reception. PM Modi is the boss...'
Thousands of Indians flocked to Sydney by plane and bus to meet Modi. People from Melbourne arrived on a chartered Qantas Airlines flight named Modi Airways. Many buses named 'Modi Express' came from Queensland also.
Reception with Vedic mantras
Modi, who arrived at the stadium along with the Australian Prime Minister, was received in traditional rites by priests chanting Vedic mantras. Then Indian music and dance forms such as Bharatanatyam were performed.
After the welcome, Modi and Albanese greeted each other with hugs. The stadium vibrated with the roar of the Indians. The celebration had already started outside with dancing, singing and praising Modi. The stadium then erupted into applause throughout Modi's speech in Hindi. Modi's speech enumerated India's achievements. He also announced that the Indian Consulate would soon be opened in Brisbane. Harris Park in the suburbs of Sydney was renamed Little India at the ceremony. Modi and Albanese then unveiled the gateway stone of Little India. Harris Park is the center of Indian business and Indian dishes.