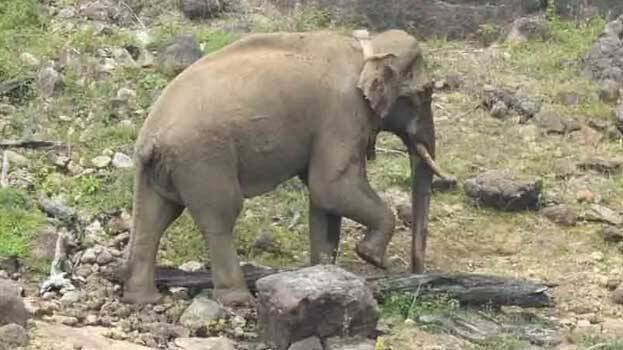 CHENNAI: Wild tusker Arikomban translocated from Cumbum forest in Theni to the Kalakad Mundanthurai Tiger Reserve (KMTR) in Tirunelveli, has entered the residential area. He has established itself without moving from the populated area. The Tamil Nadu Forest Department is monitoring the elephant, which remains at Ooth Estate in Manjolai Hills in Tamil Nadu. The forest department is trying to chase the tusker back into the inner forests. The Tamil Nadu Forest Department has released the visuals of Arikomban which is in the tenth forest of Ooth Estate.
The root map of Arikomban has been prepared. A team of veterinary doctors along with the forest guards are monitoring the tusker. Meantime, the Tamil Nadu Principal Chief Conservator of Forests (PCCF) said the people of Kerala need not worry. 'He will not be tranquilized. The elephant has not attacked anyone for rice. It has moved into the diet of the common wild elephant. The propaganda that it has reached the Kerala border is not true. So, there is no need to worry in Kerala,' PCCF Srinivas R Reddy stated in an interview to a media.
It was reported that Arikomban was traveling 10 km at night and 25 km in a day. In the past few days, the elephant has caused problems in Tamil Nadu region including crop damages. Some houses were also damaged. There were also reports that he was violent and has been in musth. There is a concern in the Ooth plantation sector. A holiday has been declared for the schools in the area. Tourism is restricted.