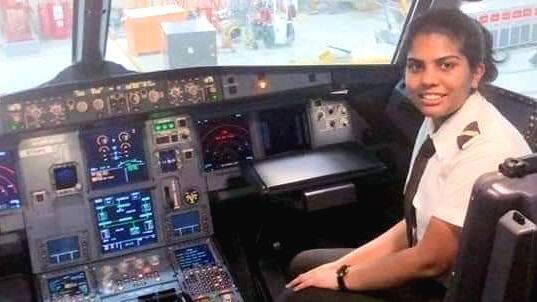 THIRUVANANTHAPURAM: Jeny Jerome always wanted to become a pilot. The 23-year-old has now made her childhood dream come true. Jenny was the co-pilot of the Air Arabia flight which came from Sharjah and landed in Thiruvananthapuram at 10.25 last night. Apart from raising the pride of women, she has also raised the pride of the coastal region of Kerala.
Jeny hails from a fisherfolk family in Thiruvananthapuram's Kochuthura and is the daughter of Jerome Joris, a superintendent of a private company in Ajman and Shirley, a housewife. She was raised and educated in Ajman.
From a young age, Jeny's been thinking about flying. When asked what her dream is, she used to say she wants to be a pilot. Growing up, her dream also grew. After plus two, some people who knew Jeni's desire asked, "Do you want to be a pilot or learn something else ...". Her desire was so strong that no one could discourage her. Her family also supported. She studied at the Alpha Aviation Academy in Sharjah. The 18-month course was shortened due to Covid.
An accident also occurred during training. The plane had to crash land due to an engine failure while training in the Philippines. Jeny was not seriously injured. Although she was frightened her love of air travel was above that. This girl is an example of how to achieve anything if desired. She has a brother - Jeby Jerome.