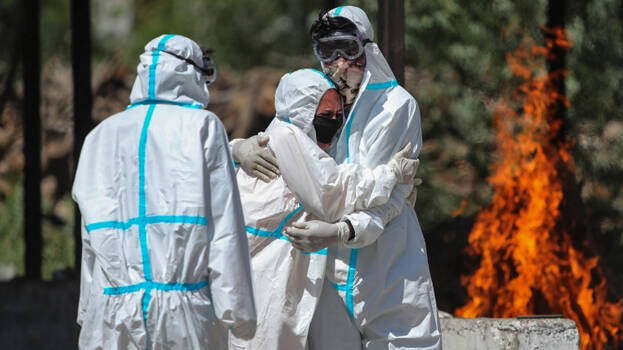 ​​​​NEW YORK: The overall global Covid-19 caseload has topped 170.1 million, while the deaths have surged to more than 3.53 million, according to Johns Hopkins University.
In its latest update on Monday morning, the University's Center for Systems Science and Engineering (CSSE) revealed that the current global caseload and death toll stood at 170,174,444 and 3,537,835, respectively.

The US continues to be the worst-hit country with the world's highest number of cases and deaths at 33,258,547 and 594,430, respectively, according to the CSSE.
In terms of infections, India follows in second place with 27,894,800 cases. India recorded over 1.52 lakh new covid-19 cases in the 24 hours ending 8 am on Monday, taking the country's total infections to over 2.80 crores. This is the lowest spike in daily infections since April 9. Out of these, active cases further declined to over 20 lakh and the number of recoveries escalated to over 2.56 crore. With 3,128 new fatalities, the lowest since April 26, the death toll is now at over 3.29 lakh.
The Centre is looking at redefining its vaccine strategy and planning to begin testing the feasibility of mixing two different covid-19 vaccines to see if it helps boost the immune response to the virus. The government will also likely review the impact of extending the interval between Covishield doses. A newly proposed vaccine tracker platform is likely to launch shortly too, sources said. Tamil Nadu continued to be the top contributor with 28,864 cases. Maharashtra count below 20,000 for the second consecutive day.
The other worst countries with over 3 million cases are Brazil (16,515,120), France (5,728,418), Turkey (5,242,911), Russia (5,005,171), the UK (4,499,934), Italy (4,216,003), Argentina (3,753,609), Germany (3,687,715), Spain (3,668,658) and Colombia (3,383,279), the CSSE figures showed.
In terms of deaths, Brazil comes second with 461,931 fatalities.
Nations with a death toll of over 100,000 are India (325,972), Mexico (223,455), the UK (128,043), Italy (126,046), Russia (119,130) and France (109,562).