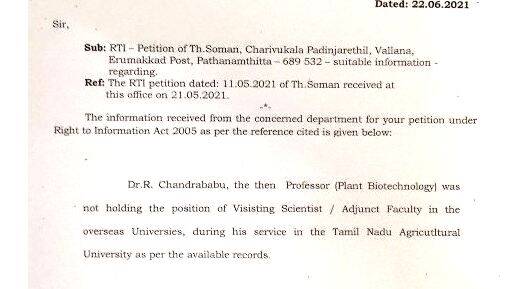 THIRUVANANTHAPURAM: The RTI documents state that most of the information given in the biodata provided by Kerala Agricultural University Vice Chancellor Dr R Chandrababu for appointment is false.
A native of Tamil Nadu, he became the VC in 2017 when he was a professor of biotechnology at the Agricultural University there. Relevant institutions have revealed that the information written to establish additional eligibility is incorrect. Kerala Kaumudi has received the relevant documents.
The selection committee met on December 23, 2017 and recommended Dr. Chandrababu without inquiring at the concerned centers whether the information in the biodata was correct. The committee made the recommendation in the afternoon, and in the evening the appointment order came down from the governor's office. On the next working day, Chandrababu took charge. He may remain in office until October 2022.
Applications that do not submit documents to prove eligibility are routinely rejected by the selection committee. Not only did that not happen, but no further checks were done.
More than twenty agronomists with certain qualifications were applicants.
As stated in the biodata
Professor at the University of Tokyo, Japan from 2013 to 2018
Visiting Scientist at Duke University in the USA, University of California, North Carolina State University, and International Rice Research Institute in the Philippines
In January 2017 alone, research was conducted on different topics at four American universities
Partnership research and academic collaboration with 11 institutions including Sher e Kashmir in Kashmir, Madurai Kamaraj University, IISER in Thiruvananthapuram
Implemented two projects worth Rs10.8 crore with financial assistance from the Central Department of Biotechnology
Informed by Institutions
E-mail from Duke, California and North Carolina Universities in the United States that Dr. Chandrababu was not a Visiting Scientist
Tamil Nadu Agricultural University says Chandrababu has not been a visiting professor or scientist in foreign universities during his 38 years of service
11 institutions including Madurai Kamaraj University and IISER in Thiruvananthapuram say there is no participatory research or academic collaboration.
The Central Department of Biotechnology has said that two projects worth Rs 10.8 crore claimed to have been implemented are non-existent