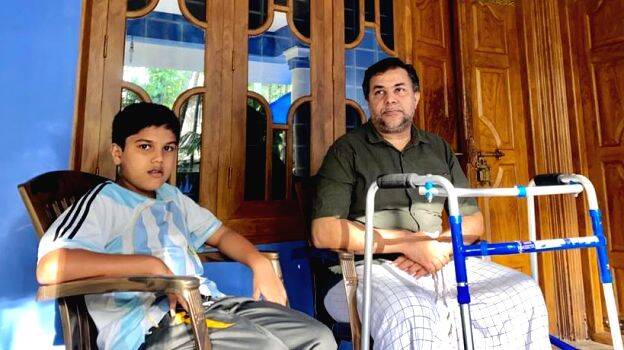 PARAPPANANGADI: 12-year-old Mohammad Suhail, son of Parappanangadi native Abdurahmankutty, was the captain of the New Indian Model School football team in Dubai. He used to run after the ball during his spare time. Now, it has been one year since he touched the ball. Doctors ruled that he won't be able to play football anymore. The serious injuries sustained in the Karipur
plane crash shattered Suhail's dreams.
The Karipur plane crash was on August 7 last year. Even after one year, Suhail and his parents are tormented by the wounds caused by the crash.
Abdurrahmankutty worked in a private bank in Sharjah. His wife and four children, including Suhail, lived with him in the Gulf. During last year's summer holidays, Suhail's three siblings returned to Kerala early. On the twentieth day, Suhail, Abdurahmankutty (50), and Muneera (43) were returning home when the plane crashed. Abdurahmankutty and Muneera were thrown out as the
plane split into three parts. Suhail was trapped between the seats. This family was the first to be rushed to the hospital by locals.
Suhail suffered a leg injury. Despite undergoing treatment for several months, he did not fully recover from the injury.
Abdurahmankutty also suffered a serious leg injury. He underwent several surgeries and a part of his rib was removed and then attached to the broken bone in the leg. The wounds caused by the surgeries are still present on his leg. He is currently walking with the help of a walker.
His wife Muneera can't walk either. The injuries on her shoulder affected her hand movement. She has undergone three surgeries so far and will have to undergo some more. The only relief for the family is the fact that the cost of treatment is being borne by Air India.
Abdurahmankutty had nine years of service in the bank when the accident happened. He is not sure if he can go to work anymore. He is experiencing severe pain even when moving. The family hopes to get appropriate compensation from Air India. The financial assistance from the central and state governments was limited to mere promises.