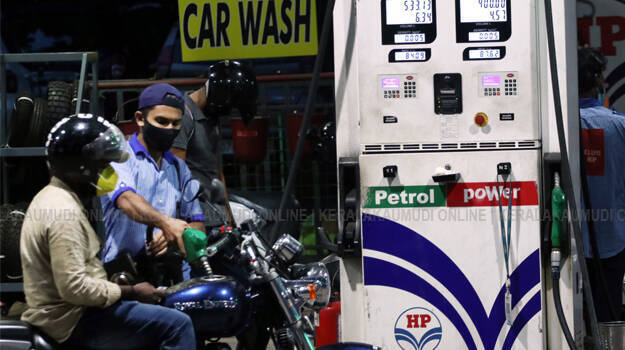 KASARGOD: The centre had slashed the fuel prices as a diwali gift to the people of the country amid rising fuel prices. The price of petrol price was reduced by Rs 5 and diesel by Rs 10. But in Kerala there was no significant drop. Kerala's position was different when tax concessions were given in all the BJP-ruled states.
The government claimed that the fuel tax is the main source of revenue for the state and so cannot reduce the prices. However, the Malayalees have found a place where petrol will be obtained at a cheaper rate.
Petrol is obtained at a cheaper rate in Thalapady which is on the Karnataka border than Kerala. Although the pump is in Karnataka, a good percentage of those coming here are Malayalees from Kasaragod.
When compared to Kerala, the demand for fuel is more here as petrol is cheaper by Rs 5 and diesel by Rs 8. In Kerala, when you buy a litre of petrol for Rs 105, in Thalapady you need to pay only Rs 99. While Kerala charges Rs 92 for diesel, here it is only Rs 84. Private buses and autos from Uppala, Hosangadi and Manjeswaram near the border are the main customers of Thalapady.