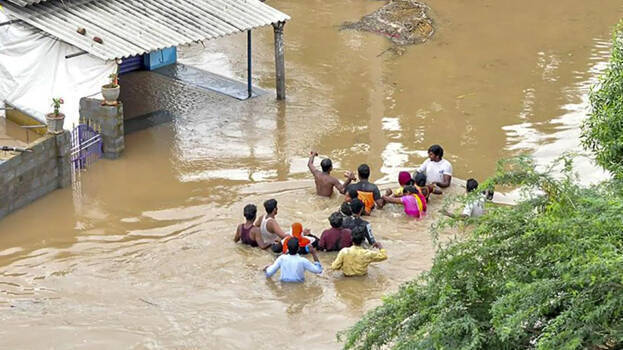 TIRUPATI: Residents of 20 villages in Andhra Pradesh have been evacuated following a crack in the famous 500-year-old Rayala Cheruvu reservoir. Built during the Vijayanagara Empire, it is the largest reservoir in Andhra Pradesh. The leak in the bund started early Sunday morning. The authorities immediately alerted the people and evacuated them. The leak was found in four places in the reservoir.
The bundle currently holds 0.9 TMC feet of water. The bund has a storage capacity of only 0.6 TMC feet water. The authorities said this is the first time in recent times that so much water has flowed into the reservoir. This is due to the heavy rains. Meanwhile, the irrigation department has taken steps to rectify the problem. Even if the snag is solved, it is not sure whether the bund can be used again. The district collector said the reservoir is in danger.
Meantime, relief work continues in flood-hit eastern districts of Andhra Pradesh. The death toll from the rains rose to forty. Search is on for about 50 people who went missing in the floods. There are heavy floods in and around the Tirupati temple. Rescue operations have been stepped up as the strength of the rains has receded.