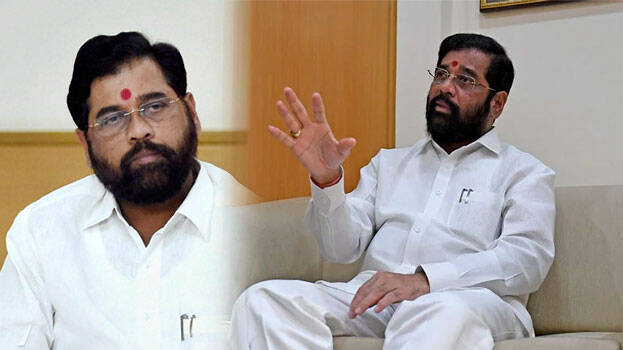 MUMBAI: The life of Eknath Shinde, who is about to take oath of office as the new Chief Minister of Maharashtra, is eventful. 58-year old Shiv Sena leader Eknath Shinde, who started the political turmoil in the state, is a leader who reached top position from poor living conditions. Strong organizational skills and popularity are behind this success. Shinde was an auto driver in Thane city near Mumbai.
After joining the Shiv Sena, he became a leader who actively involved in the people's problems of the Thane-Palghar region. This four-time MLA did not forget his ways even when he became Public Works Minister in the Mahavikas Aghadi government. He would always point out his gratitude to the party and his admiration for Bal Thackeray to underline his popularity. Shinde is a leader who maintains a connection with the people at the grassroots level and spends time with them to solve their problems.
Eknath Shinde was born on February 9, 1964 in Satara in Western Maharashtra, the stronghold of Shiv Sena. He couldn't complete his graduation.Shinde started his political career under Anand Dighe, one of the pillars of the Shiv Sena. In 1997, he became Thane Municipal Corporation Councillor. He became an MLA in 2004. Shinde, who rose to become number two in the party, became Thane district chief in 2005. Shinde's son Dr. Srikanth Shinde is a Lok Sabha MP from Kalyan.
In 2014, he was the Leader of the Opposition in the Maharashtra Legislative Assembly for a while. In 2014, when the government was formed under the leadership of Fadnavis, the influence increased again with the Sena becoming an ally. His closeness with BJP Chief Minister Devendra Fadnavis was noticed. It was also evident in the local elections held in 2016. The BJP contested against the Shiv Sena in places other than the Thane Municipal Corporation.
In 2019, Shinde became a cabinet minister when the Sena broke ties with the BJP and formed a government under the leadership of Uddhav Thackeray in the Mahavikas Aghadi alliance. During the Covid period, although the NCP minister was in charge of the health department, but Shinde took control of the treatment in Mumbai and surrounding areas. Shinde's closeness with Fadnavis was disconcerting to other party members. Because of that, Shinde's transfer to the charge of Vidarbha region was seen as punishment.