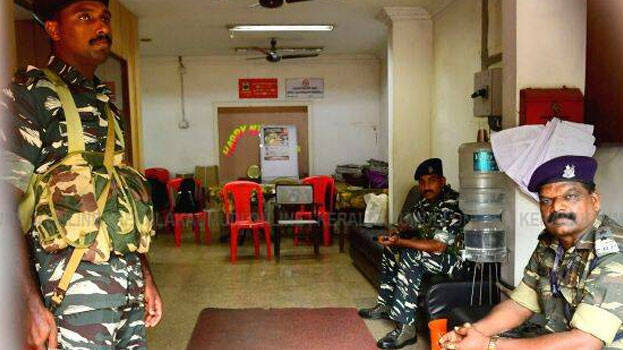 THRISSUR: The Enforcement Directorate (ED) on Wednesday conducted a lightning raid on the houses and the bank of the five accused in the Karuvannur Cooperative Bank fraud case. Some important documents were recovered. The inspection by a 75-member ED team from Kochi was to find out the benami deposits of the accused.
The houses of ex-bank president KK Divakaran, ex-secretary Sunil Kumar, ex-branch manager MK Biju Karim, ex-senior accountant Jiles and ex-Rubco commission agent of the bank Bijoy were raided. Land documents were recovered from Divakaran's house and some files and documents were recovered from the bank. Employees who were on leave were called to the bank and information was collected. The inspection led by ACP Ratnakumar lasted till 8 pm.
The ED was simultaneously investigating the bank fraud. ED had visited the bank earlier to check the documents. The ED's action comes after the death of an elderly woman who did not have money for her treatment despite having deposited lakhs in the bank.
ED officials surprised with house and facilities
The ED officials were surprised to see the house and facilities of Commission Agent Bijoy, one of the accused in the case. He had a huge house with big walls and luxury cars that cannot be seen from outside. The bank, which had taken the agency of Rubco, kept Bijoy as the commission agent in this transaction. Earlier it was alleged that the transaction was done with the knowledge of the governing body in such a way that Bijoy would get 4% personal commission out of 12% commission. Customers of the bank say that the financial growth of Bijoy was very fast.
No charge sheet even after a year
It has been a year since the crime branch filed a case in the fraud case, but no chargesheet has been filed yet. The Crime Branch says that the investigation is ongoing. Eighteen cases have been registered so far. Meanwhile, chief complainant MV Suresh told the media that more money had been swindled than what was discovered and the previous administration has a role in this. Suresh demanded that the allegations of smuggling money abroad should be investigated and more people should be made accused.
50 crore will be raised
The government told the court that a special scheme has been formed to overcome the financial crisis at Karuvannur bank and Rs 50 crore will be raised within three months as part of this.