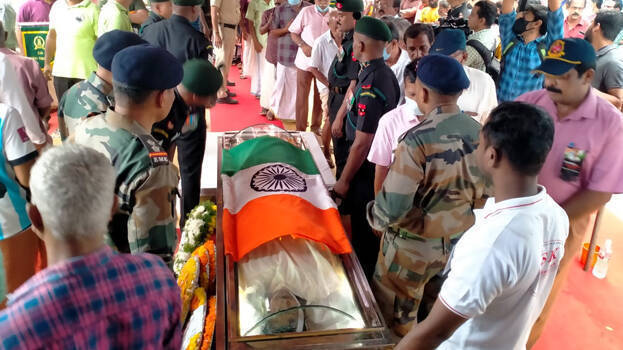 PALAKKAD: The body of Malayali soldier Vaisakh, who died after an army truck overturned in North Sikkim, was brought to his native place Mathur in Palakkad. Hundreds of people from various walks of life paid homage to the body kept at Mathur AUP School. He will be laid to rest with full official honors at Ivor Madom in Thiruvilvamala at 11 am.
The body that came via Coimbatore airport yesterday was brought home by road through Walayar border. The body was received in Walayar by Minister M B Rajesh, V K Sreekandan MP and Shafi Parampil MLA. The whole night the body was kept home to pay homage. Many people came home to have a last glimpse of the soldier.

16 soldiers including Vaisakh (28) died when the army truck part of a convoy skidded down a steep slope at Zema while negotiating a sharp turn. Vaishakh was a Naik with 221 Field Regiment. He joined the army in 2015. Vaisakh was the sole breadwinner of the family consisting of his father Sahadevan and mother Viji, both daily wage labourers. He last came home on July 24 for his son's birthday. He leaves behind his wife Geethu and one and a half year old son Thanveek. Shruthi is his sister.
Four soldiers injured were rescued by helicopter and taken to hospital. The accident happened on Friday at 8 am. The truck was part of a three-vehicle convoy that moved from Chatten towards Thangu and there were twenty soldiers in it.