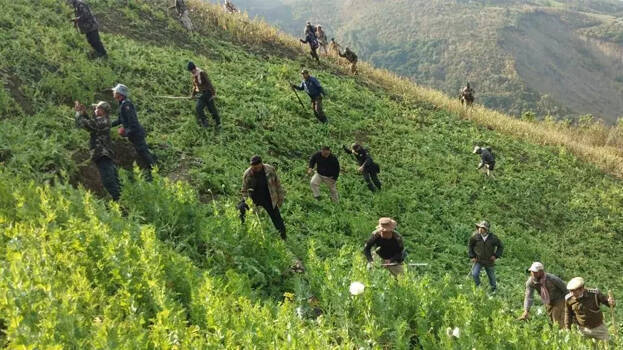 IMPHAL: Manipur government has stepped up action against drug trade before New Year. The government is probing the hilly areas to stop the illegal farming of opium. As part of the special security drive, five main persons who were into poppy cultivation were arrested. 703 persons working under them were also taken into custody.
The authorities revealed that 400 acres of poppy fields were destroyed as part of the inspection. The hilly regions of Manipur is reeling under the drug trade of opium. Opium is being smuggled to other parts of the country from this area. Easter Manipur area is sharing a 400 km boundary with Myanmar. Major part of this area does not have much security.
Therefore, the border villages of Manipur is a safe haven for drug trade from the Golden Triangle consisting of Myanmar, Laos, and Thailand to India. The border fence, which is only ten percentage on the border do not pose much threat to the drug smugglers. As it became difficult to stop the drug trade completely, the government has made the inspection of paddy fields inside the state stronger.