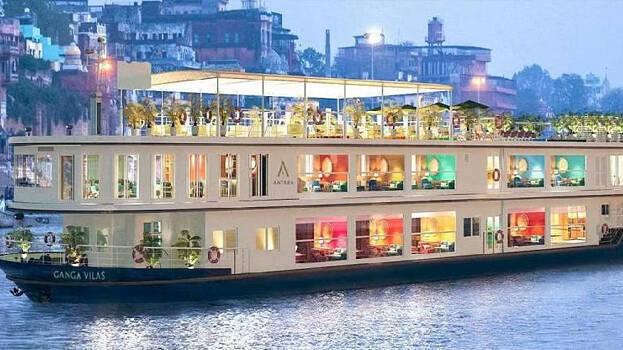 VARANASI: Prime Minister Narendra Modi has flagged off the world's longest river cruise MV Ganga Vilas in Varanasi through video conferencing. Along with this, the Prime Minister also inaugurated other inland waterway projects worth over Rs 1000 crore.
MV Ganga Vilas will cover a distance of over 3,200 km. Called as the floating palace, MV Ganga Vilas is the first cruise ship to be built in India. It is a symbol of self-reliant India (Atmanirbhar Bharat) in the river cruise sector.
Journey through 27 rivers
The ship will sail through 27 rivers including Ganga, Bhagirathi, Hooghly, Brahmaputra and West Coast Canal. MV Ganga Vilas, a luxury triple deck cruise, arrived in Kashi from Kolkata on Monday. The first journey is scheduled from Varanasi to Dibrugarh in Assam. The first group of travelers are Swiss tourists. There is also a German citizen. A total of 33 people have booked seats. The journey from Varanasi to Dibrugarh is 3200 km. It will take fifty days to complete the journey. The cost per person for this trip is around Rs 13 lakh. That is Rs 25,000 per day.
During the trip, tourists have the opportunity to see more than 50 places, including those that have been included in the World Heritage List. The ship will pass through national parks and wildlife sanctuaries like the Sundarbans Delta and Kaziranga National Park.
MV Ganga Vilas is a giant ship with a length of 62.5 metres and a width of 12.8 meters. It has 18 suites with all amenities. Apart from this, facilities like gym and spa have also been prepared. Musical and cultural programs will also be organized during the trip.