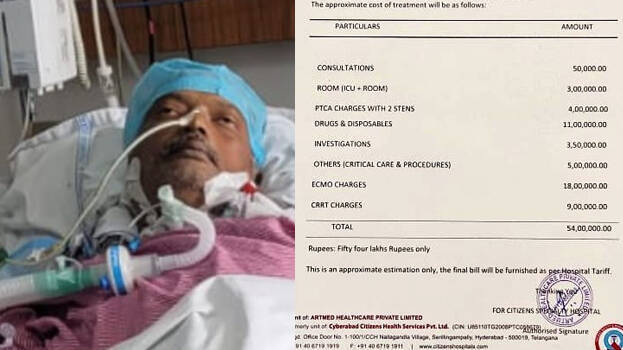 HYDERABAD: Alligations that private hospitals charge outrageously have been made before as well. Now a hospital in Hyderabad has charged its patient with a bill of 54 lakhs for a treatment of 10 days. This high amount was charged by Citizen specialty hospital in the city. 44-year-old patient Syed Rahmath Uddin was admitted to the hospital for a heart problem at the beginning of this month and he was subjected to Angioplasty later.
The spokesman of Majlis Bachao Tehreek (MBT) Amjed Ullah Khan shared the bill and details of the patient on social media. The patient was charged Rs 50000 for consultations, Rs 3,00,000 for ICU and Rooms, Rs 4,00,000 as Angioplasty charges, Rs 11,00,000 for drugs and disposables, Rs 3,50,000 for investigations, Rs 5,00,000 for other clerical care procedures, Rs 18,00,000 for extracorporeal membrane oxygenation and Rs 9,00,000 for CRRT blood purification therapy. In total, the amount came to a whopping 54,00,000.
Family members of the patient have paid Rs 20 lakhs so far to the hospital. The hospital is demanding Rs 29 lakhs more. The bill has become a topic of discussion on social media but the government authorities or the health department have not commented on the incident so far.