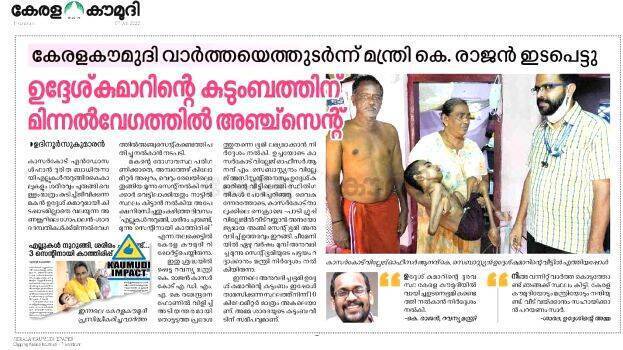 KASARGOD: Gopalan-Sharada couple had been struggling for years with their endosulfan-affected son Udesh Kumar, without having a home or land of their own. The son has broken bones and drinks only water. Finally, they have received the five cents of land they were promised. Kasargod collector Bhandari Swagat Ranveerchand has handed over the title deed of the land.
Kerala Kaumudi had published a report on June 6, 2022 describing their plight. Revenue minister K Rajan noticed the report and directed Kasargod ADM to give land near to their home immediately. Kerala Kaumudi had also reported when the family was given land 57 km away in Chemmeni village. As soon as the minister's order was issued, the officials decided to find suitable five cents of land for the house and give it to them. However, the title deed was handed over six months later due to technicalities. The family had paid Rs 2845 in Nekraje village office on November 25 to get title deed. ADM AK Ramendran, Kasargod Tehsildar-in-charge Sr. Superintendent Suma D Nair and Kasargod Special Village Officer A Mahesh were also present on the occasion.
Udesh Kumar's mother Sharada thanked Kerala Kaumudi for ending their 31-year suffering. Kasargod ADM AK Ramendran said that the minister directly called and ordered to grant the family the land after seeing the Kerala Kaumudi report.