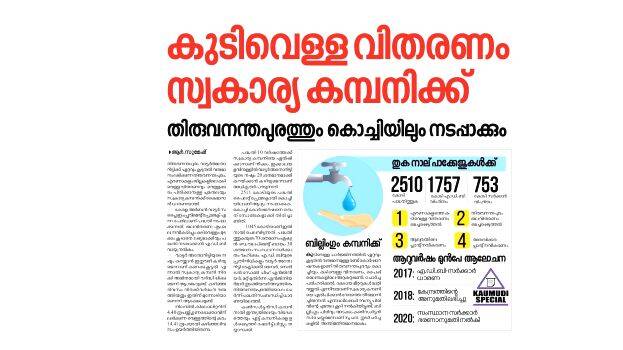 THIRUVANANTHAPURAM: The Water Authority has invited tenders for giving the drinking water supply contract in Kochi city to a private company. The action was taken after the authority MD held a discussion with the union representatives the other day. The project is implemented with the help of Asian Development Bank (ADB) as part of Kerala Urban Water Supply Improvement Project. The first phase of Rs 2511 crore project is implemented in Kochi. The next stage will be Thiruvananthapuram.
The project is being implemented by dividing the Kochi Corporation into nine zones. The project duration is 10 years. The project involves improving the drinking water supply network. After the tender process is completed, the loan conditions will be discussed between ADB and the government. At present, it has been agreed in principle to provide loans at an interest rate of two percent. Tenders were invited as contract, sub-contract and joint venture. Deadline for submission is April 26.
The project also includes upgradation of drinking water treatment plants at Aluva and Aruvikkara. 70 percent of the project cost will be borne by ADB and 30 percent by the state.
Eight companies have applied to become a consultancy for the implementation of the project. Indian companies such as URS Scott Wilson, Voyants Solutions, Infra India Limited, Eptisa, HaskoningDHV Consulting and Meinhardt Limited (Singapore), Mott MacDonald and Tractebel GKW Limited.