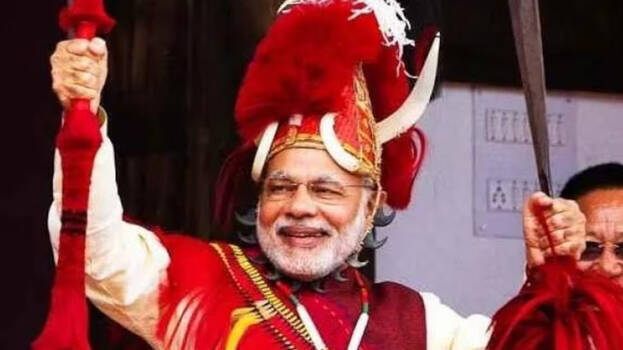 KOHIMA: "CONGRESS MUKT BHARAT" was the clarion call of BJP leaders and especially Prime Minister Narendra Modi after he ascended to the throne in 2014. The dream is slowly bearing fruit. The Hindi heartland has by some means adorned saffron; the decisive elections in Rajasthan and Karnataka will set the picture straight for the impending 2024 Lok Sabha elections and Uttar Pradesh has turned into a bulwark of the BJP in the north. However now, the congress tries to wield back their old bastion of the northeast, but can they do a coup?
Prime Minister Narendra Modi is in Shillong and is traveling to other parts of Meghalaya in a bid to garner votes to help retain power in a decisive state. Rahul Gandhi-led Bharath Jodo walk kicked a chord with the masses but after all, what matters is votes and his talk should do the walking now as Meghalaya set itself to voting days.
Both in Nagaland and Meghalaya, BJP is in power. The erstwhile congress fortress is currently adorning saffron and shattering the purported opposition doctrine of BJP's aversion to Christianity. Both Nagaland and Meghalaya are Christian dominant lands and still they vote for BJP. The dilapidated condition of congress in the state needs a mention or two since the party was rummaging for candidates in the current election but not getting any. In Nagaland's Akuluto assembly seat, the candidates from other parties took back their nomination after presaging a loss of money. Thus the BJP candidate has been elected unopposed even before the elections. This rounds up the politics running in the northeast.
BJP made it to the ruling seat in Meghalaya through the deceptive art of war. In the 2018 elections, the congress emerged as the largest winning party with 21 seats. The BJP governor entered the fray with his share of realpolitik asking Nationalist leader party head Conrad Sangma to form a government with BJP and other smaller allies than teaming up with congress. It was also a caveat to abide or else the central government may end cooperation with the government in Meghalaya.
After this, it was crumbling down for congress like a pack of cards. Many MLAs tilted their affiliation with BJP and jumped ships. In Meghalaya 12 congress MLAs aligned with Trinamool congress, a party not even a registered player in the northeast turf. This has upped the election dreams of Trinamool congress since Sangma is a veteran and the name itself can rope in votes. Apart from the illustrative yet tedious victory in Bengal, the TMC couldn't make a mark on other turfs including Goa where they endured a loss that was nothing short of humiliation.
As for Congress, this is the time for a resurgence. The Jodo walk has done its work to some measure. But many gauges it as not enough to wrest back the northeastern clout that has aligned strongly with other parties. The CPI is also participating in one seat in Meghalaya.