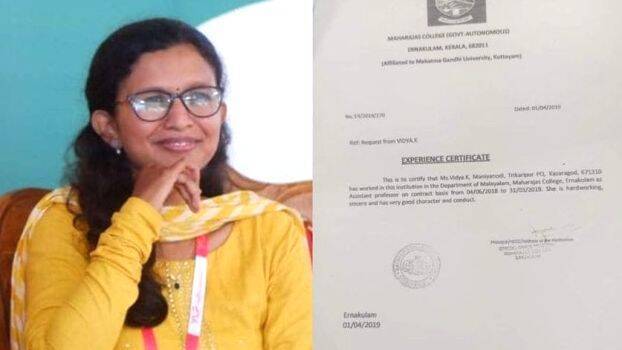 KOCHI: The police on Wednesday said that Kasargod Thrikaripur native K Vidya, who tried to secure a job by creating a fake work experience document in the name of Maharaja's College, is absconding. Vidya, who has been booked under the non-bailable sections, is likely to get a jail term of up to seven years. The FIR stated that Vidya forged the certificate with the intention of cheating.
A PhD student at Kalady Sanskrit University, Vidya was the union general secretary of SFI and class representative at Maharaja's College. Her phone is currently switched off. The police said they are still trying to find her. The Ernakulam Central Police said that the case will be handed over to the Agali Police as Vidya presented the forged document in the college in Attapadi, Palakkad.
Vidya of Kasaragod forged an experience certificate for the appointment of a guest lecturer. In the fake certificate, Vidya claimed that she had worked as a guest lecturer at Maharajas College from 2018 to 2021. Vidya produced a copy of the certificate bearing the seal of Maharaja's College and the signature of the Vice-Principal for the guest lecturer post at Attappadi Government College in Palakkad. The authorities of the college grew suspicious and informed the Maharajas College.
Meanwhile, Dr Bichu X Malayil has withdrawn from the position of Vidya's guide at the Sanskrit University. Bichu informed the Vice-Chancellor that he cannot continue as a guide until Vidya proves her innocence.