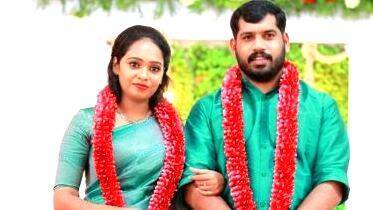 MUKKAM: When Thiruvambadi MLA Linto Joseph walked into the Kathirmandapam with the help of a cane, and garlanded Anusha, it became a moment to cherish after several years-long romance. The two were friends during their time as SFI activists. Linto was in perfect health at the time. During the floods, the attempt to rush a cancer patient from Kumpara Mankunnu Colony to the hospital resulted in a car accident. One of his legs lost its function. When she found out, Anusha only liked him more. The party did not give up either. Despite the difficulties, the candidacy in the election came to Linto as he was active in politics. The marriage, which overcame the barriers of religion, was led by the Party Area Committee.
Former MLA George M Thomas, a member of the CPM district secretariat, handed over the red garland to the bride and groom at a function held at the Karthika Wedding Hall in Mampetta.
Linto, who is also the DYFI block treasurer, is the son of Palakkal Joseph and Annamma of Koodaranji. Anusha is the daughter of Rajan and Latha.
Minister Ahmed Devarkovil, MLAs PTA Rahim, Thottathil Raveendran, KM Sachindev, OR Kelu, K Shanthakumari, KV Sumesh, M Vijin, Najeeb Kanthapuram, PV Anwar, Thiruvananthapuram Mayor Arya Rajendran and LJD State Vice President V Kunhali were present on the occasion.