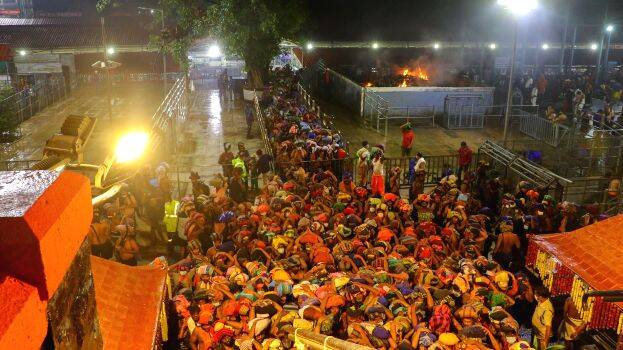 SABARIMALA: Thousands of devotees will be blessed with the bliss of sacred Makaravilakku on Friday. Makarasankrama Pooja and Deeparadhana with Thiruvabharanam will be held tomorrow. On Thursday, Pampa Vilakku and sadya will be held.
Ritualistic purification procedures before Makaravilakku were held yesterday. Idol purification will take place before noon pooja today.
Those who took part in Erumeli Pettathullal and came through the forest path and those who trekked the hill after viewing the Thiruvabharana Yatra at Pandalam began to reach Ayyappa. Pilgrims who have completed the darshan will not be forcibly returned. It is estimated that more than one lakh people will be present at Sannidhanam alone for Jyoti Darshan. Jyoti can be seen at other places including Pampa Hilltop, Attathode and Nilakkal. The Ambalappuzha and Alangad teams who took part in Erumeli Pettathullal also reached Pampa. Today, they will go trek the hill only after Pampasadya and 'vilakku'. Pilgrims from Tamil Nadu have been less due to the Omicron-induced lockdown. Most of the pilgrims are from Andhra Pradesh, Telangana and Karnataka.
Devaswom Board President Adv K Ananthagopan, members Manoj Charalel, PM Thankappan, Devaswom Special Commissioner M Manoj and Sabarimala Police Chief Co-ordinator ADGP S Sreejith were also present.
Spot registration
As some who booked via the virtual queue are absent, more pilgrims can perform darshan through spot registration. No one is sent back in the absence of registration. Spot registration is available with two dose vaccination certificate, RTPCR negative certificate and Aadhaar card. Apart from Pampa and Nilakkal, this facility is available at ten centres in Kerala. This will allow more people to perform darshan on Makaravilakku days.