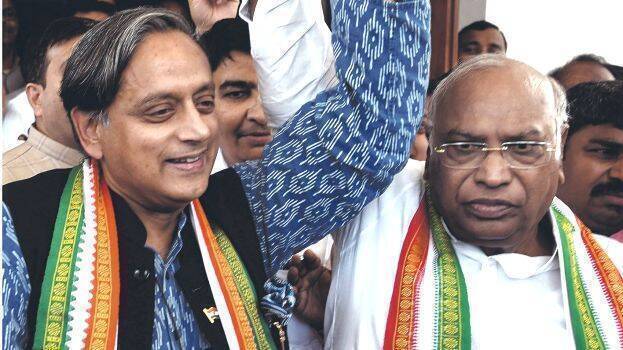 NEW DELHI: Just after the Congress Presidential election poll results came out, the congress election chief has raised accusations against Shashi Tharoor for showing two faces – one in front of the party election authority chief, Madhusudan Mistry, and the other in front of the media.
Mistry has come out against Tharoor's allegation of election irregularities in the just concluded Presidential election. He criticized Shashi Tharoor for showing one face in front of him and another face in front of the media.
The Congress election chief said that Shashi Tharoor was satisfied with the reply given by him to Tharoor's allegations of irregularities. However, in front of the media, Shashi Tharoor raised allegations of irregularities in the conduct of the election.
Just when the counting of the votes was about to get over, Tharoor's chief election agent, Salman Aneez Soz, had shot a letter to Madhusudan Mistry about the irregularities in the election process in Uttar Pradesh. However, the letter was leaked and Shashi Tharoor told that we can go forward by forgetting about everything.
Mistry added that Shashi Tharoor's complaint was accepted and examined. Yet, Tharoor had alleged in front of the media that the election authority was conspiring against him. Mistry also added that Tharoor was trying to create a narrative that the whole election process was biased against him.
After Mallikarjun Kharge's win, the Congress party is having a non-Nehru family at its top post after 24 years. Out of the total number of 9385 votes, Kharge received 7897 votes. Tharoor who was able to grab 1072 votes, also showed his growing acceptance within the grand old party.
Dalit leader, Mallikarjun Kharge will assume office on 26 October.