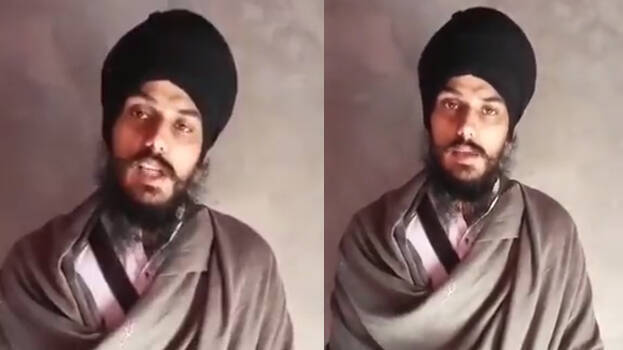 CHANDIGARH: Khalistan supporter and leader of Waris Punjab De, Amritpal Singh called upon the members of Waris Punjab De and Sikhs inside and outside India to save Punjab. Amritpal Singh is asking for this in a newly released video message on YouTube. Amritpal speaks blaming the Punjab government and the police but does not say anything about Khalistan.
'If the Punjab government wanted to arrest me, the police could have come to my house and I would have yielded.' It was earlier reported that he is in Punjab and will reach the Golden Temple today and surrender. After that, the police had put up heavy security in Amritsar and were vigilant.
At the same time, some indications had come out earlier that Amritpal has given conditions for surrendering to the police. It was, to be specific, not to torture him in custody, not to record it as an arrest but as his surrender, not to take him out of Punjab, and not to impose UAPA. But the Amritsar Police Commissioner denied this. After receiving a tip-off that he was in Hoshiarpur, the Punjab Police conducted a search, but it is reported that Amritpal has escaped.
Amritpal says in the video that the almighty god saved them from lakhs of policemen who came to arrest them. Through this statement, he has given an indication that he has no intention of surrendering. He also made a call to various Sikh organizations to save Punjab in the video.