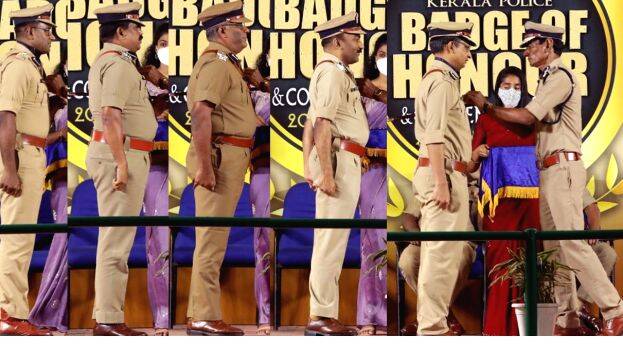 THIRUVANANTHAPURAM: Chief of Police Anil Kant presented the Badge of Honour awards to the best police officers at a function held at Chandrasekharan Nair Stadium. A total of 286 police officers received the 2020 award. Commentation discs were also presented to 54 officers of the Armed Forces. Twenty-five people from the ministerial category received the police chief's commentation certificate.

The Badge of Honor is for 138 officers for excellence in criminal investigation, 22 for excellence in intelligence, 11 for excellence in law enforcement and 8 for excellence in training. Fourteen in the telecommunications category, four in the anti-human trafficking category and 24 in the social policing, battalion administration and motor vehicle categories received the award. Six in Traffic, two in women police, 13 in mounted police, dogsquad, police band and orchestra received the award. The awards went to 26 people in the police administration, office administration and data maintenance categories, three in the forensic department, three in the fingerprint category and 13 in other categories.

IG Gopesh Agarwal, DIGs K Sethuraman, KP Philip, S Shamsunder, AV George, SPs R Nishanthini, T Narayanan, Harishankar, Jaidev G, Sujith Das S, Shilpa D, Vaibhav Saxena, Aishwarya Dongre, N, Madhusoodanan and VK Abdul Khader received the Badge of Honor.