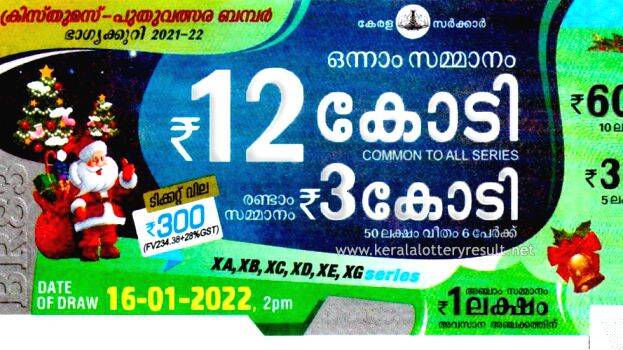 KOCHI: The sale of the Kerala Lottery's Christmas and New Year bumper tickets, with prize money of Rs 12 crores, is in full swing. Tickets priced at Rs 300 are registering historic sales.
The first 24 lakh printed tickets were sold like hot cakes. The nine lakhs tickets that were printed after this were sold out in a similar manner, after which 8,34,000 tickets were printed. Of this, only Rs 6 lakh remains.
The sale, which started on November 22, will continue until January 15. The draw is on the 16th. The 33 lakh Christmas and New Year bumper ticketss printed were completely sold last year. 37 lakh tickets were printed as Pooja bumper. The total income was Rs 57,81,25,000.
10,000 crore turnover
Turnover for 2019-20 - 10,000 crore
In 2020-21, only half of this was received
Lotteries canceled during the Covid period - 170
Sales resumed in June
Turnover so far this year - 3,000 crore
Expected turnover - Rs 6,000 crore