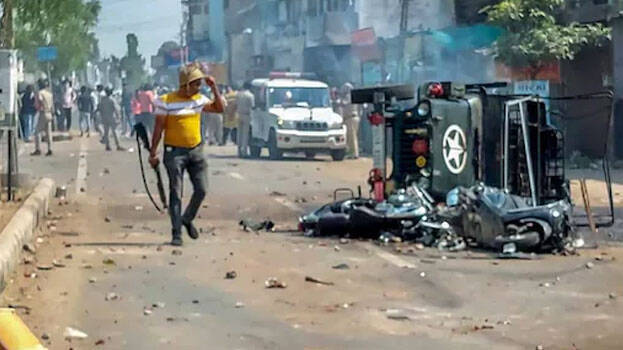 NEW DELHI: Communal clashes broke out in four states during rallies held in various parts of the country as part of Ram Navami. One person was killed in Gujarat and another was seriously injured. The clashes broke out in Gujarat, Jharkhand, West Bengal and Madhya Pradesh. Prohibitory orders were clamped at Khargone in Madhya Pradesh.
Police in Gujarat had to use tear gas after the miscreants pelted stones and set fire. An unidentified body aged 65 was found in Gujarat after the clashes. Authorities in Madhya Pradesh clamped prohibitory orders after the assailants set fire to vehicles. The police used tear gas to control the situation. Three policemen were injured in the stone pelting.
The clash broke over a dispute in playing music on loudspeakers. Following the dispute, clashes erupted over allegations that stones were hurled at a procession starting from Talab Chowk in Madhya Pradesh. Twelve people were injured in a stampede following violence in Jharkhand.

BJP leader Suvendu Adhikari has accused police of attacking am Navami procession at Howrah in West Bengal. Suvendu also alleged that several people were injured in the police action. He also said that devotees in the state do not have the freedom to practice their own religious rites.

There was also a clash at JNU over serving of meat on Ram Navami day. The clashes ended in a dispute at the Kaveri hostel mess. Twenty people, including girls, were injured in the stoning and violence. A case has been registered against ABVP activists in the incident. The case was registered by the police on a complaint lodged by left organizations and students' unions including the SFI.

According to the complaint lodged by the student organizations, it was the ABVP activists who stopped the person who brought chicken to the hostel and caused trouble. It is alleged that the students, who were questioned by the activists, were attacked with stones and plant pots.