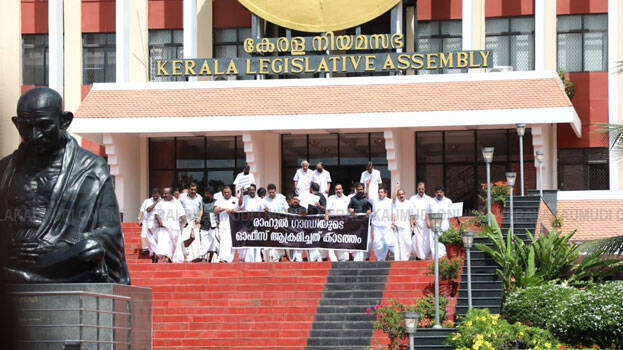 THIRUVANANTHAPURAM: In the wake of the opposition protests, the Kerala Assembly was adjourned on Monday. The submission was cancelled and the opposition's adjournment motion was also not considered. Following which, the opposition expanded its protests outside the assembly.
"Rahul Gandhi's office in Wayanad was destroyed with the knowledge of the chief minister. Minister Veena George's staff member, who had led the attack, has not yet been named an accused in the case. Kodiyeri is threatening the police.
The attack was launched to appease the Sangh Parivar. The CPM is showing a bigger insult to Gandhi than the Sangh Parivar. The aim is to destroy the opposition's voice in the assembly. Attempts for planned violence have taken place. Members, including ministers, have shouted provocative slogans in the assembly", said opposition leader V D Satheesan.
The fifth session of the 15th Kerala Legislative Assembly had begun on Monday morning amid protests launched by the opposition. The opposition issued an adjournment motion seeking a discussion on the attack on Rahul Gandhi MP's office in Wayanad. The notice was issued by Congress MLA T Siddique.
As soon as the question hour started, the opposition started shouting protest slogans. The protesters lifted atop banners and placards. Despite repeated requests from the speaker, the opposition continued their protests. With this, the session, which lasted only for five minutes, was temporarily suspended.
The speaker clarified that the notice was under consideration and that banners and placards were illegal. The media was strictly restricted. The Sabha TV was directed that the visuals of protests should not be exposed. The PRD did not release the visuals of the opposition's protest inside the assembly. Only the visuals of the ruling party were given to the media.
Meantime, some opposition MLAs came to the assembly wearing black shirts and black masks. Leaders including Shafi Parampil, Anwar Sadath and Saneesh Kumar wore black shirts and carried placards in their hands.