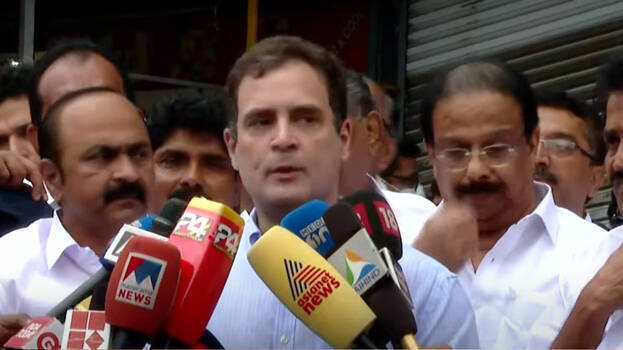 KALPETTA: Rahul Gandhi visited the office attacked by SFI activists in Wayanad. He termed the incident as unfortunate and said that he is not angry with the attackers.

'This is not just the office of Rahul Gandhi but also the office of the people of Wayanad. Unfortunate things happened. Violence is being unleashed in all parts of the country. However, violence is not a solution for anything. I am sad on the incident.

I am not angry with them. Children who did this did not think about the problems of this. They showed irresponsibility,' Rahul said this while responding to the media during his visit to Wayanad. Rahul is on a three-day visit to Wayanad.

The SFI attack on Rahul Gandhi's Wayanad office happened on June 24. The attack was against Rahul Gandhi for not interfering in the buffer zone issue. A march by SFI activists to the MP office in Kalpatta Kainatti turned violent and led to a scuffle.

The police tried to stop the workers initially but they trespassed to the second floor of the office through the back side. The Congress alleged that the activists damaged the shutters of the office, broke the windows and attacked their employees.