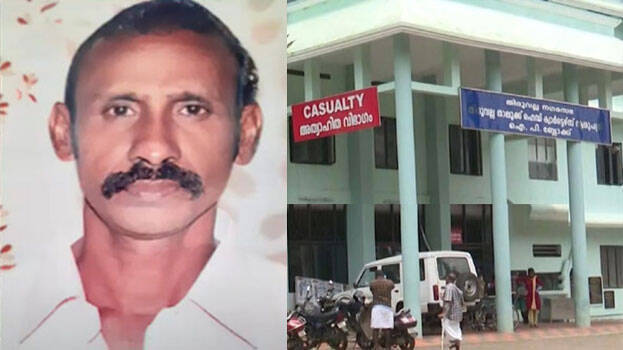 PATHANAMTHITTA: A complaint has been lodged alleging that a patient died without getting oxygen in an ambulance. The dead has been identified as Rajan, a native of Padinjare Venpala. His relatives alleged that the cause of his death was the lack of oxygen in the ambulance, while he was taken to the medical college.
The incident took place at around 11:30 pm, last day. Rajan was taken to Thiruvalla Taluk Hospital due to difficulty in breathing. Following which, the doctors asked to shift him to Vandanam Medical College. However the patient's condition worsened about ten minutes after leaving the taluk hospital. As he faced difficulty in breathing, the family asked the ambulance driver to give him oxygen. But, the driver said that the oxygen cylinder was empty, said the relatives. It is also alleged that the driver refused to listen to them when the family asked to take Rajan to another nearby hospital. Following which, Rajan died as the ambulance reached Vandanam Medical College.
However, Thiruvalla Taluk Hospital superintendent Dr Biju Nelson said that the allegations are baseless. The patient was brought to Thiruvalla Taluk Hospital in a critical condition with an oxygen level of 38%. He was referred to Vandanam Medical College as requested by his relatives. He was sent to the medical college after being provided with B type full cylinder oxygen facility. The patient, who was in a critical condition, died only after 20 minutes of reaching the medical college hospital, said Dr Biju Nelson. Meanwhile, driver Bejoy responded that the ambulance had not run out of oxygen. "The patient was in a critical condition. I heard the doctor saying it to the patient's relatives. I don't understand why they are lying", he said.