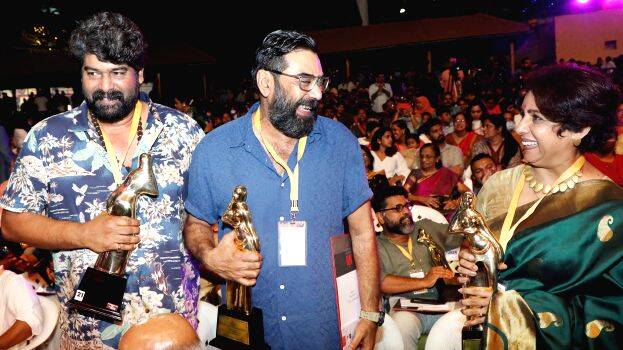 THIRUVANANTHAPURAM: Chief Minister, Pinarayi Vijayan, said that Malayalam films are witnessing an experiment far removed from the usual subjects, during the Kerala State Film Award inaugural function.
The Chief Minister said that there are women in all phases of the film industry. This must increase. Films can be considered a form of art and also an entertainment industry. The aim of awards is to encourage the art of cinema.
He said that the best movie 'Avasavyooham' considers every living organism. The second movie 'Chavitu' is about the protest of the exploited against the privileged. The movie 'Nishidho' is significant as it was made with the financial help of the government for female directors.
The CM said that Rs.3 crore has been allocated for female directors in the budget. He also said that a transwoman has been included in the award for the first time in history.
The 52nd Kerala State Film Awards began at Nishagandhi auditorium with a tribute to actor Thilakan on his 10th death anniversary. Film Academy Chairman Renjith led the function to honor Thilakan. The KC Daniel Award was presented to movie director KP Kumaran.
The first lifetime achievement award for television was presented to senior media personality, Sasikumar, by the Chief Minister. Minister Vasavan presided over the function.
Actors Biju Menon, Joju George, Revathy, director Dilesh Pothen, and director of Avasavyooham, Krishanth received the award from the CM together with the winners in 55 categories.
The 2021 film award book was released by Minister, V Shivankuty and Minister, Anthony Raju. The second volume of the reference book 'Malayala Cinema Nallvazhikal' was released by Minister, GR Anil and MLA VK Prashant.
Mayor, Arya Rajendran, District Panchayat President, D Suresh Kumar, Jury Chairman, Sayeed Mirza, script section chairman, VK Joseph, Film Academy Chairman, Renjith, Vice Chairman, Premkumar, Secretary, C Joy also attended.
A music show by Bijibal called 'Sound of Music' was also staged during the function.