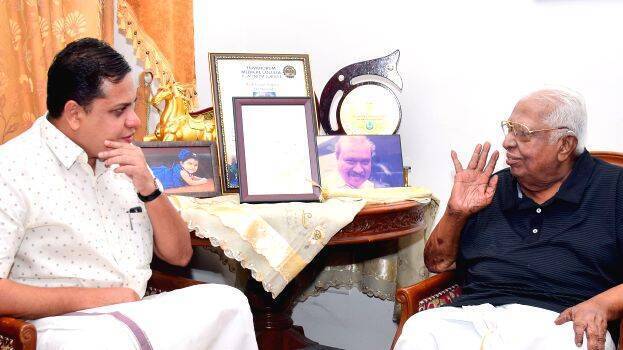 THIRUVANANTHAPURAM: Senior Congress leader and former Governor Vakkom Purushothaman said that Shashi Tharoor is not fit to be the Congress president.
"Tharoor is a capable leader. However, that is not enough to become a party president. There is something wrong with Tharoor. The fact that Tharoor has not been made an official candidate by the High Command despite all this crisis means that he is not qualified for it. I have no compulsion that the president should come from the Gandhi family itself. It is a lapse on the part of the party that it cannot control Ashok Gehlot despite him causing so much crisis. I do not agree with the view that the person recommended by the Gandhi family should be the official candidate'," Vakkom said to Kerala Kaumudi.
Speaker A.N.Shamseer arrived at Vakkom Purushothaman's residence at Kumarapuram at 9.45 am to meet him. The Speaker honoured Vakkom Purushotham and his wife Lilly Purushotham with Ponnada and gave 'Onakodi' to both of them.