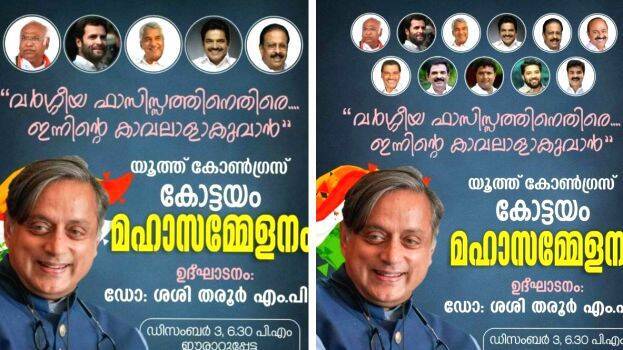 THIRUVANANTHAPURAM: The Congress A Group has apparently declared its support for the new-age group by announcing that Shashi Tharoor, who created waves in the party with his Malabar tour, will inaugurate the Youth Congress conference in Kottayam. Adding fuel to the fire, it placed boards of the conference on the roads by excluding the picture of Opposition Leader VD Satheesan from them. With the issue becoming a controversy, new boards were placed with Satheesan's picture.
The Kottayam District Committee led by president Chintu Kurian Joy will organise the grand conference on December 3 in Erattupetta. However, DCC president Nattakom Suresh said that he was not aware of this program. Senior leader Thiruvanchoor Radhakrishnan also said that no one consulted him regarding the program.
Meanwhile, Bishop Joseph Pamplany of Thamarassery extended wishes to Tharoor during his visit to Kannur yesterday. The other day, the Muslim League announced its full support to Tharoor and the NSS leadership declared that Tharoor will be inaugurating Mannam Jayanti this year. With this, Tharoor has received the blessings of the three communities that are the UDF's vote bank.
Activists welcomed Tharoor in Kannur by raising slogans praising him. Meanwhile, K Muraleedharan on Wednesday gave a sarcastic reply to VD Satheesan who described Tharoor as an inflated balloon. He said that those who underestimate the opponent should not forget Messi, who was stunned following a shocking defeat to Saudi Arabia. MK Raghavan responded that he respects the balloon that bursts when punctured, the needle used to puncture it and the hands that hold it. K Sudhakaran and VD Satheesan did not make any controversial comments yesterday.