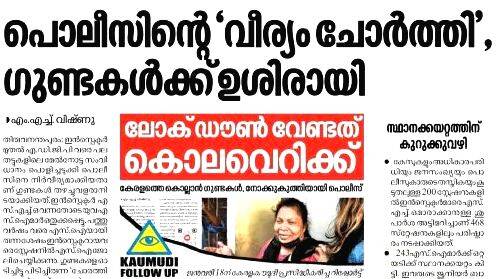  Kerala Kaumudi impact
THIRUVANANTHAPURAM: Government decides to appoint young Sub-Inspectors and reappoint Sub-Inspectors as the station in charge of 106 stations to take down gangsters. Kaumudi pointed out that the young blood in SI rank are spending their time on VIP Duty and controlling traffic and the Inspector SHO system has led to the growth of gangsters. 60 appointments will be done immediately. It was during the first Pinarayi government the responsibility of a station was shifted to Inspectors from SI's. As of now, Inspectors are the SHOs.
Even though there are three to four SIs in each station, they are not assigned important duties. Operation Kaval declared by DGP Anil Kanth was also not a success due to a lack of coordination.
Starting from stations with a low number of cases.
 SI will take charge of the C-category stations with fewer cases. One SI will become Principal SI
 An inspector will monitor two stations. Line station SIs will be made SHO first.
 The Inspectors withdrawn from charge will be posted at Crime branch and anti-terrorist squad to speed up pending case investigation.
 DySP will be in charge of 9 stations in total. Gundalist and (KAAPA) Kerala Anti-social Activities (Prevention) Act will be their responsibility.