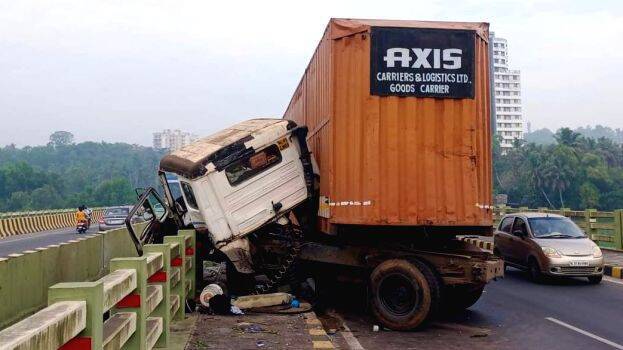 THIRUVANANTHAPURAM: A container lorry carrying brand new cars lost control and crashed into the handrail of the Akkulam bridge. Although the cabin of the lorry collapsed and the driver fell into the lake, he miraculously escaped. The driver, Muhammad Nisar Khan (37), a native of Bihar, is undergoing treatment at the Medical College Hospital. The hospital authorities said Nisar's injuries are not serious. The lorry, which came from the Kazhakootam direction, was involved in the accident at around 4 am on Monday. Nisar, who was thrown out of the lorry due to the impact of the crash, fell into the shallow portion of the lake filled with water hyacinth and grass. As a result, he did not drown in the lake.
The passers-by soon informed the nearby highway patrol team about the accident. The patrol team immediately the spot and informed the Thumba Police and Kazhakootam Fire Force before conducting a rescue operation. Three pillars of the handrail were broken. The lorry that met with the accident was a Nagaland-registered one carrying cars from Karnataka to the Popular Maruti showroom near Chackai. The preliminary conclusion of the police is that the driver may have fallen asleep.
Massive traffic jams
Following the accident, there was a heavy traffic jam on the national highway on Monday morning. Vehicles were stuck on the road for nearly ten hours. The traffic on this route returned to normal after the lorry was removed at around 2 pm using a crane. The cars in the lorry were shifted to the showroom before this.
No street lights
Although street lights are installed at key points on the national highway, Akkulam Bridge has none. The entire bridge will be dark after 6 pm. Local residents say that accidents are common here.