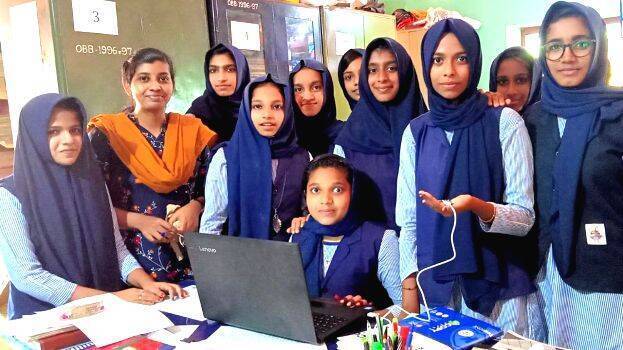 MALAPPURAM: The 10 toppers of Malappuram Cheriyam High School rocketed with pride as ISRO successfully completed the second mission of Short Range Satellite Launch (SSLV). AzadiSAT, one of the three satellites launched, was built with the participation of 750 girls from 75 schools across the country. Among these, the only government school from Kerala is Mankada Cheriyam Govt. high school.
Chennai-based space research organization SpaceKids India is behind the baby satellite AzadiSAT. The AzadiSAT scheme was launched on the occasion of the 75th anniversary of Independence Day with the aim of ensuring the participation of women and girls in the fields of technical education. The students were asked to program the chip to understand the temperature control in space and the composition of the atmosphere. For this, Arduino software and chip were sent to the schools.
P Anwar Basheer, the headmaster of Govt High School Cheriyam, came to know about the Space Kids project while searching on Google for innovative ideas to find science-minded students. After registering, Space Kids officials contacted the school on Google Meet in February. According to their suggestion, 10 children who are science addicts were selected. Physics teacher Namitha Prakash was assigned to supervise the work and they received the chip by courier on March 10th. Studies were done on the laptop during the afternoon breaks. Chip programming was completed and sent back by the 17th. The lack of fast Wi-Fi and updated Windows software were the initial stumbling blocks. Teacher Namitha said that when an error was shown in the chip programming, she took a screenshot and handed it over to the Space Kids authorities. The students participating in the historical mission are P Hana, K Arsha, K Nusla, CP Ansha, K Niha, K Fahmiya, A Nita, C Naja Fatima, K Niha, and K Diya Fathima, students of classes 9 and 10.