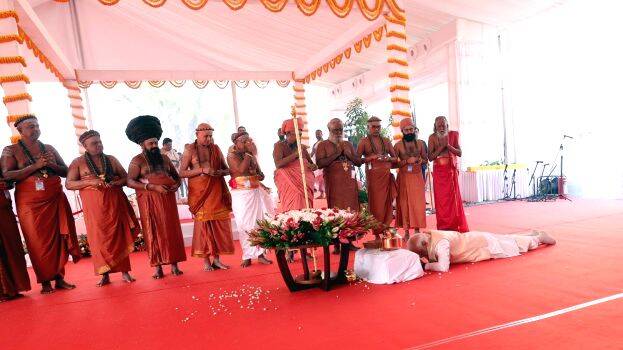 NEW DELHI: Prime Minister Narendra Modi dedicated the new Parliament building to the nation. The Sengol, considered a symbol to mark the transfer of power from the British to Indians, was installed besides the chair of the Speaker. Modi then inaugurated the building by lighting the lamp and also unveiled a commemorative plaque for the new building.
The Prime Minister attended the pujas held before this. Modi reached the new Parliament building at 7:30 am. Prime Minister offered floral tributes to Gandhi's statue. He was received by Lok Sabha Speaker Om Birla. Priests of Tamil Nadu Saiva Maths handed over the scepter to Narendra Modi.
The Prime Minister said that the new Parliament building will witness the sunrise of a self-reliant India and the new building is a symbol of the concept of 'Ek Bharat Shreshtha Bharat'. In his historic speech, Modi said that India's dream of becoming a developed country in 2047 will come true and the country's development is the main consideration.
The puja ceremonies were held in a specially decorated pandal near the statue of Mahatma Gandhi. A multi-faith prayer meet by representatives from several religions were held. The priests of Tamil Nadu Shaiva Muts, Vummidi Bankaru Jewelers who made the Sengol and those involved in building the temple were honored.
Victory Call for Modi
Prime Minister Narendra Modi reached the new Parliament building at 12 noon to participate in the second phase of the ceremony. Modi was welcomed with cheers by people including MPs. The Prime Minister paid tributes to VD Savarkar at the New Parliament Building yesterday, which also happened to be his birthday. The message of President Draupadi Murmu and Vice President Jagdeep Dhankar was read out by the Deputy Chairman of the Rajya Sabha. The Prime Minister launched the new Rs 75 coin and stamp. The speech started at 1:05 and the ceremony was over by two o'clock.
MPs will increase
In his maiden speech to the new Parliament, the Prime Minister hinted at increasing the number of MPs. The new building will be able to accommodate them as the number of representatives increases. The theme of the Lok Sabha is the peacock, the national bird, and the theme of the Rajya Sabha is the national flower, the lotus. The granite was brought from Rajasthan and the wood from Maharashtra. The carpet was brought from Bhadohi in Uttar Pradesh. Modi said that the spirit of 'Ek Bharat Shreshtha Bharat' is beating in every particle of the building.