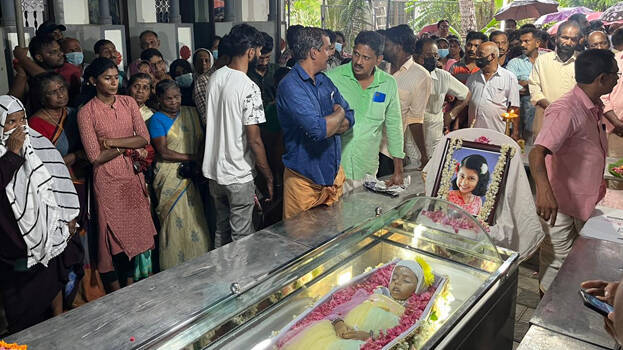 MAVELIKKARA: Nakshatra who was hacked to death by her own father was laid to rest near her house premise. Hundreds poured in to see a final glimpse of the ever-cherubic young girl they have known. Tears and wails reverberated across the place where the only smile palpable was in the portrait of Nakshatra, oddly gracing her ubiquitous smile.
It was yesterday that SreeMahesh killed his five-year-old daughter Nakshatra with a hatchet. The wound was deep in her neck and the sound of the scuffle made Mahesh's mother rush to their home from the nearby premise. What she saw was ghastly. Nakshatra laying in a pool of blood while Mahesh brandishing a hatchet with crude eyes looking for his next target. Without sparing a thought, he attacked his mother who was admitted to hospital with serious injuries.
Three years before, Mahesh's wife Vidya committed suicide which shattered the family. Mahesh then restricted his life only to his daughter. The father and daughter were in too much bonhomie that they used to go out every day. The police assume Nakshatra might have pestered Mahesh about going to her mother's home, bringing uncontrollable anger.
Mahesh came from UAE to Kerala only after his father's death. His mother was a retired nursing superintendent. The family even found another bride for Mahesh and was fixing on marriage. However, the relationship went sore after Mahesh made it often to barge into his fiancee's home creating a ruckus.
Sree Mahesh has been remanded by the court. While in custody, Mahesh attempted suicide at 6:45 pm inside the sub-jail washroom. Evading the police eyes, Mahesh got hold of a paper cutter placed on the table and made cuts on his neck and wrist with the tool. Police found the incident late and rushed Mahesh to the hospital. The culprit has admitted his misdeed to the doctors while his health status is confirmed as stable. Mahesh's mother who was injured in her son's attack left the hospital yesterday and reached home to give final kisses to her slain granddaughter.