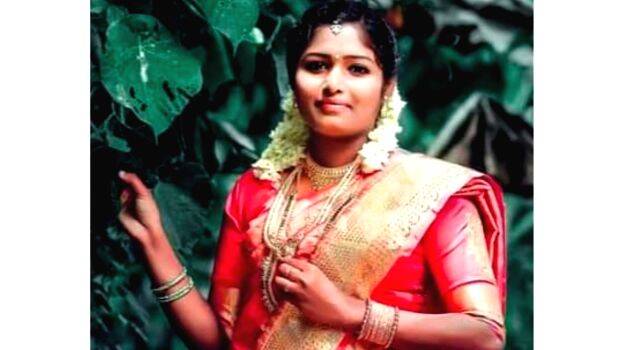 KIZHAKKEKALLADA / KUNNATHOOR: A woman died after jumping from the Kadapuzha bridge to Kallada river on the Kollam-Theni road. The deceased has been identified as Revathi Krishna (23), wife of Saiju of Saiju Bhavan in Kizhakkekallada.
The woman jumped into the river at 11 am yesterday while the locals were watching. Before the fire brigade and Kizhakkekallada police could reach from Kundara, houseboats from Kadapuzha took her to the shore with the help of locals. She was rushed to a private hospital in Bharanikawa but could not save her life. As the person was unidentified, Revathi's picture was spread on social media along with a wedding locket written 'Saiju'. Meanwhile, relatives came and identified the body.
Revathi is the daughter of Krishnakumar and Sasikala of Kidangil house in Othiramukal in Pavithreswaram. The marriage took place eleven months ago. A few weeks later, her husband Saiju went to Dubai for work. She lived with her father and mother. It is learned that there were no issues between Saiju and Revathi. Meanwhile, relatives alleged that Revathi committed suicide due to harassment by her husband's family who demanded dowry.
Police recovered Revathi's phone and diary from the house. The police only got the statement of Revathi's sister. The statement of the parents will be recorded today. The body is in the mortuary of Sasthamcotta Taluk Hospital. The postmortem will be conducted today after the inquest in the presence of the RDO. Kizhakkekallada police have registered a case of unnatural death.