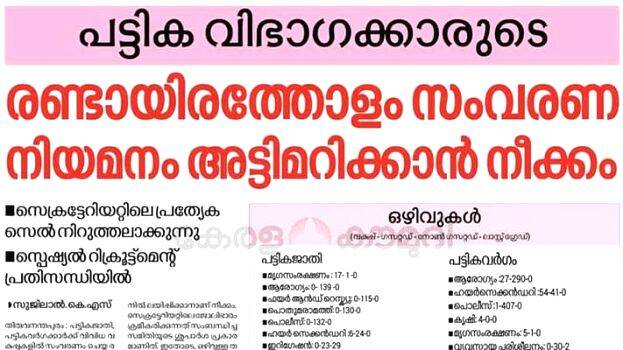 THIRUVANANTHAPURAM: The Department of Public Administration (Employment Cell-B) set up to examine the representation of Scheduled Castes and Scheduled Tribes in the Government service and to increase the efficiency of the special recruitment process has been abolished. The decision was taken as per the recommendation of five-member committee appointed for scientific organisation of work at Public Administration department.
The cell which examines the annual review of 87 departments and the appointments of Scheduled Castes has been merged under Section A. Special recruitment will not be possible in the vacant posts. The Section Officer in the Employment Cell-B has been reassigned to the Industries Department and the assistants to the Public Administration (Coordination) Department. The two departments were merged and renamed as the Department of Public Administration (Employment Cell).
The Department of Public Administration (Employment Cell - B) was responsible for the preparation of the review progress report on SC or ST special recruitment, compiling the manual of reservation proposals and coordinating the activities of the High-Level Committee for making necessary amendments to the vacancies reported in the PSC. An inspection in 2019 found that more than 2000 vacancies had not been reported for special recruitment.
200 gazetted posts are vacant
As on September 30, 2019, 888 vacancies were reported in the Scheduled Castes category including 52 Gazetted, 761 Non-Gazetted and 75 Last Grade. A total of 1079 vacancies, 127 Gazetted, 910 Non-Gazetted and 42 Last Grade were reported in the Scheduled Tribes category. It was also found that there were not enough Scheduled Castes in the posts of Special Secretary, Additional Secretary, Joint Secretary and Deputy Secretary. About half of these vacancies have been reported to PSC by the Cell B department. The police department had reserved 15 posts, including 3 DySPs, the Assistant Director of Forensic Science and 6 Circle Inspectors.