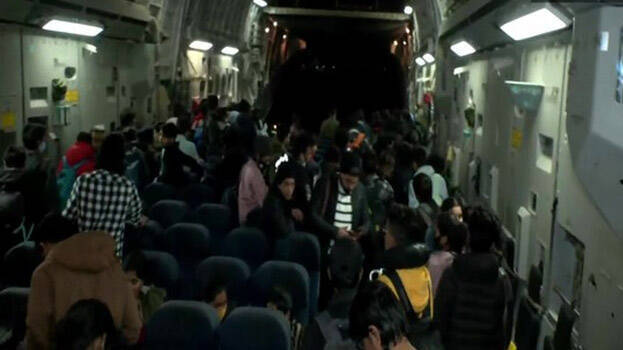 NEW DELHI: The second Indian Air Force (IAF) flight carrying stranded Indian nationals from Ukraine reached Delhi, on Thursday. The two flights, carrying around 400 people, landed at the Hindon airbase by early morning. Numerous Malayalees are also among those on board.
Two C-17 Globemaster flights, carrying more than 200 Indian nationals, will land soon. "The aircraft which brought students earlier has been sent for evacuation as soon as students get off of this aircraft. It will again take off for evacuation. It is our duty to bring every single student," said Union Minister of State Ajay Bhatt. Both private planes and air force planes are part of the rescue mission. All the stranded Indians will be repatriated safely, he added.
Meantime, Prime Minister Narendra Modi spoke to Russian President Vladimir Putin over phone. Russia alleged that the Indian students are being held hostage by the Ukrainian security forces, who are preventing them from leaving the country in every possible way. However, Ukraine rejected the allegation saying that the students were unable to return due to the Russian missile attacks.