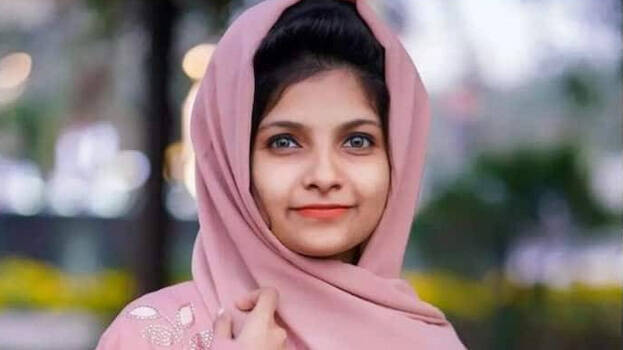 KOZHIKODE: Postmortem of vlogger Rifa Mehnu's body was done at Kozhikode Government Medical College. Rifa's body was autopsied by a team led by Dr. Lisa John, head of the forensic department. After the postmortem, the body was taken to Pavandoor in Kozhikode.
Rifa, who was living in Dubai with her husband, died under mysterious circumstances. Her body was unearthed this afternoon from the graveyard of the Juma Masjid in Pavandoor following a request from her relatives for an autopsy.
The body was exhumed under the supervision of the tehsildar. Police team led by Thamarassery DySP and forensic experts were present. The body was not significantly damaged as it was embalmed.
Rifa, 20, was found dead on March 1 at her residence in Dubai. Her family had alleged that her husband, Mehnaz, 26, a native of Kasaragod, was behind Rifa's death. The family also complained that Mehnaz had abused Rifa mentally and physically. Police have registered a case against him for mental and physical harassment and incitement to suicide.
Rifa, who returned from work at 9pm the night before his death, spoke to her two-year-old son and parents via video call. The next day, Rifa was pronounced dead at the scene. Mehnaz also said that a post-mortem was conducted in Dubai. The body was brought home and buried within half an hour. Rifa's family thinks that they were cheated.