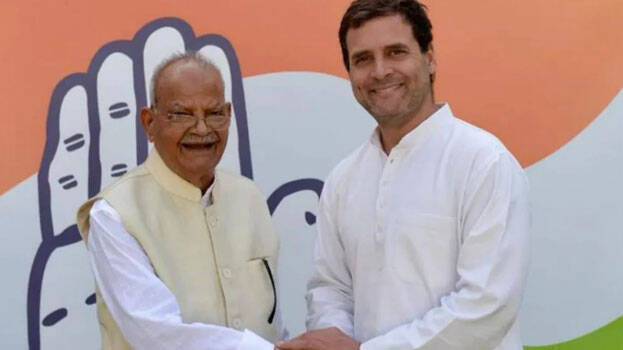 SHIMLA: Union Minister and senior Congress leader Pandit Sukh Ram passed away. He was 94. He had been undergoing treatment at the All India Institute of Medical Science (AIIMS) in New Delhi since May 7.
A Himachal Pradesh Congress leader and Sukh Ram's grandson Aashray Sharma took to Facebook and announced the news of the leader's death. Sharma also posted a childhood photo with his grandfather on his Facebook page.
Sukh Ram had been admitted to a regional hospital in Mandi as he suffered a brain stroke on May 4. He was later airlifted to AIIMS in Delhi for better treatment. Himachal Pradesh Chief Minister Jai Ram Thakur had provided a state helicopter for airlifting the leader to Delhi on May 7.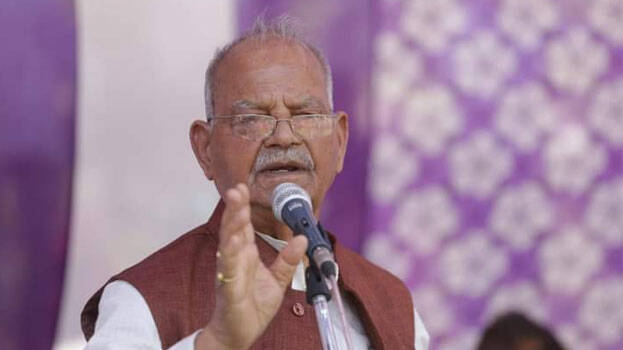 Sukh Ram served as the Union Minister of State Communications (Independent Charge) from 1993 to 1996. He was also a member of parliament from Himachal Pradesh's Mandi constituency. He won the assembly polls five times and the Lok Sabha polls three times.
Sukh Ram served as a minister in the Rajiv Gandhi government in 1984. He was an MLA from Mandi constituency from 1963 to 1984. During his tenure as the animal husbandry minister in Himachal Pradesh, his decision to bring cows from Germany led to an increase in farmers' income in the state. The incident had gained him wide popularity.
Sukh Ram's conviction in a corruption case during his tenure as a union minister turned out to be a black chapter in his political career. He suffered huge setbacks following the telecom scam. His son was also expelled from the Congress. Sukh Ram was sentenced to five years of imprisonment for corruption in 2011, when he was Communications Minister.
Currently, Sukh Ram's son Anil Sharma is an MLA from Mandi. Anil Sharma had won the Mandi Assembly seat in 2007 and 2012 as a Congress candidate.
Sukh Ram, along with his son Anil Sharma and grandson Aashray Sharma, had joined the BJP ahead of the 2017 assembly polls. However, he rejoined Congress along with his grandson Aashray Sharma, prior to the 2019 Lok Sabha elections.