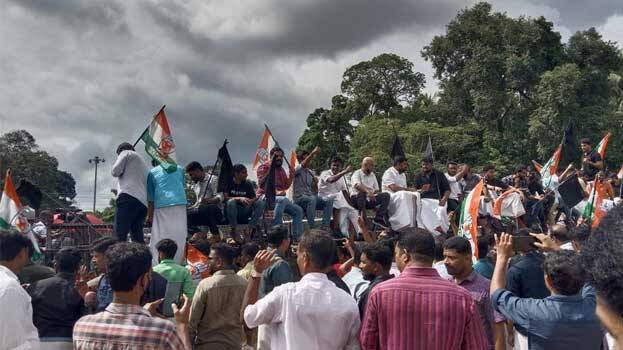 MALAPPURAM: BJP activists waved black flags towards the chief minister despite the tight security arranged. The activists showed black flags to the chief minister, who was on his way to Tavanur to inaugurate the new central jail, at Kundamkulam.
Shortly after this, the Youth Congress and the Youth League came to the fore staging protests against the chief minister who reached Tavanur. The protests are taking place outside the venue of the inaugural function. A clash broke out when police tried to disperse the activists using water cannons. The police also stopped the protesters using a barricade. In the meanwhile, the police arrested and removed some people who entered through the barricade.
Like yesterday, police removed the black masks of the people. Instead gave them yellow masks. People were permitted to enter only until an hour before the inauguration. The media was banned from taking pictures of removing the masks.
Meantime, the Left leaders came justifying the police action of removing the masks. LDF convener E P Jayarajan asked why so compulsory to wear black masks. Minister M V Govindan also responded that black masks are being used for protests. He said the chief minister needed security and would not cause inconvenience to the public. The district police chief said there was no direction to remove the masks of people.
Although there is no directive from the office of the chief minister, there are indications that the police are being persuaded to ban black cloth from the event attended by the chief minister, fearing that the black cloth may be used for protests.
About 700 policemen have been deployed for the security of events in Malappuram. About 100 policemen have been deployed in Changaramkulam by a team led by SP. All the DySPs in the district will provide security for the chief minister's programme.